Colorado EE Plan
Environmental education is one of the best ways that Colorado schools can power up learning!  Environmental and outdoor learning establishes connections that enable knowledge and skills to easily flow from the classroom into new contexts, powering further exploration.  Some students across the state benefit from lots of energizing environmental and outdoor learning opportunities, while others have very little to plug into.  A patchy and unreliable grid means our environmental education system isn't as strong as it could be.  By implementing the statewide Colorado Environmental Education (EE)  Plan, we can rewire our EE system to eliminate dead zones and boost learning outcomes for everyone.
We are all part of the PLAN for environmental education in Colorado.  How can you be involved?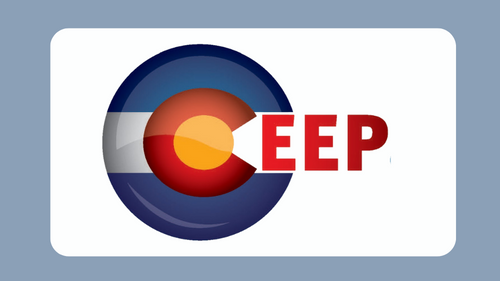 Read the Plan
Download the Plan and learn about our four key goals.  Identify the many ways are already contributing to the implementation of the goals and opportunities to do even more to advance environmental and outdoor learning.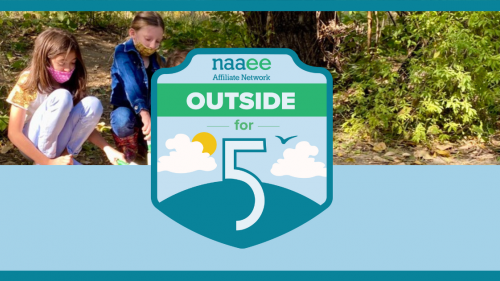 Pledge Outside for 5
Sign the #OutsideFor5 pledge to incorporate outdoor learning lessons or activities for at least 5 minutes a day, 5 days a week, or any meaningful amount of time.  Visit www.outsidefor5.com for resources.
Share the Plan
We need your help to spread the word! Share the following information with educators in your community and encourage them to learn more about the plan and sign the pledge to go Outside for 5!
Advocate
Access information to help leaders and decision makers understand the power of environmental education. Endorse the No Child Left Inside Act.
Increase EE Experiences
Meet the goals of the plan by integrating EE in your classroom and finding or providing EE experiences.
Find EE PD
Find and share eeProfessional Development to build your knowledge and skills in environmental education.
The Colorado Environmental Education Plan, adopted by the Colorado Board of Education in 2012 and revised in 2022, outlines a coordinated strategy between PreK-12 teachers, schools, environmental education providers, and leaders in Colorado to:
Strengthen collaboration across the state among key stakeholders such as state agencies, formal and informal educators, business and industry partners, school districts, community organizations, researchers, families, and communities.  
Provide professional development that increases high-quality, culturally-relevant, and inclusive learning experiences for students and develops a greater understanding of complex ecosystems.
Improve statewide access to formal and informal environmental education experiences for all students.
Create formal and informal pathways to explore career opportunities in the environmental field and understand how environmental literacy can benefit any career field. 
Get Involved
Join your Regional Environmental Education Leadership Council and help implement the Colorado Environmental Education Plan!
Implementation of the CEEP is dependent on a strong network of partners in environmental education including teachers, schools, administrators, higher education professionals, non-formal environmental education providers, businesses, and more.
Northeast EE Leadership Council
Council Chair:
Jared Mazurek
Northwest EE Leadership Council
Council Co-Chairs: 
Lara Carlson
Andrea Aust
Southeast EE Leadership Council
Council Co-Chairs:
DeLene Hoffner and
Rose Banzhaf
Southwest EE Leadership Council
Council Co-Chairs: 
Amanda Kuenzi
Adriana Stimax
Regional Councils
Four regional councils have been developed across Colorado to assist in carrying out the mission, goals, and strategies outlined in the Colorado Environmental Education Plan (CEEP). Regional Environmental Education Councils consist of representatives from a variety of sectors and communities including, but not limited to, formal education, non-formal education providers, agriculture, oil and gas, energy, forestry, tourism, and recreation. Regional council members serve as champions of the CEEP by advancing the development and enhancement of environmental education networks and partnerships on a local level.
REGIONAL COUNCIL MEMBERS PLAY THE ROLES OF ADVOCATES, ASSET BUILDERS, AMBASSADORS, AND ADVISORS WITH THE FOLLOWING RESPONSIBILITIES:
Connect networks of state and community agencies, districts, and schools who work together in order to increase access to environmental education across the state.
Share success stories that support implementation of the plan
Strengthen partnerships among schools and districts and  EE providers who provide resources and access to environmental education opportunities to increase opportunities across the state.
To accomplish the above responsibilities councils will:
Establish annual goals and methods for evaluating those goals, including:
Generate a recruitment and orientation plan for new Council members.
Grow Partnerships among EE providers and schools and districts.
Increase access to EE resources and tools
COUNCIL MEETINGS
CDE, DNR, and CAEE will call a Statewide gathering of the leadership of the EE Regional Leadership Councils two times per year and should be attended by at least two representatives from each of the four Regional Councils, representatives from CDE, DNR, and CAEE.  Purpose of the meeting will include:
Share region-specific priorities and successes.
Revisit and set common statewide priorities.
Inform CDE and DNR of activities across the state that are related to the CEEP.  Be informed of CDE and DNR relevant initiatives.
Monitor annual progress toward meeting the goals of the Colorado Environmental Education Plan.
Additional guests can be invited to attend these twice yearly meetings that could help inform regional members of statewide initiatives or could be informed by regional activities.  Guests can be invited to attend regularly or as applicable.
---
History
In 2010, legislative authority (HB10-1131) was given to the Colorado Department of Natural Resources (DNR) to create the Colorado Kids Outdoors Grant Program. The goals of the legislation were to improve young people's knowledge of the environment and increase young people's opportunities for outdoor educational experiences. The legislation also required the Colorado Department of Education (CDE) to adopt a statewide plan for environmental education.  The CDE and DNR asked the Colorado Alliance for Environmental Education (CAEE) and a dedicated task force to create an initial proposal for a statewide environmental education plan. Through an iterative process of data collection including online surveys, focus groups, and public meetings, a proposal was developed and a final Colorado Environmental Education Plan (CEEP) was adopted by the Colorado State Board of Education on December 5, 2012 with bi-partisan support.  A revised version of the plan was published in April 2022 after collecting two years of public feedback and input.
Learn more about the Development of the 2012 Plan.